Sub-goal 4: Even distribution of unpaid housework and provision of care
Women still take a great deal of the responsibility for the unpaid care and housework. They take out more of the parental benefits and spend more time taking care of children. Women and men provide care, but in different ways. However, women's care work seems to affect them more negatively than men.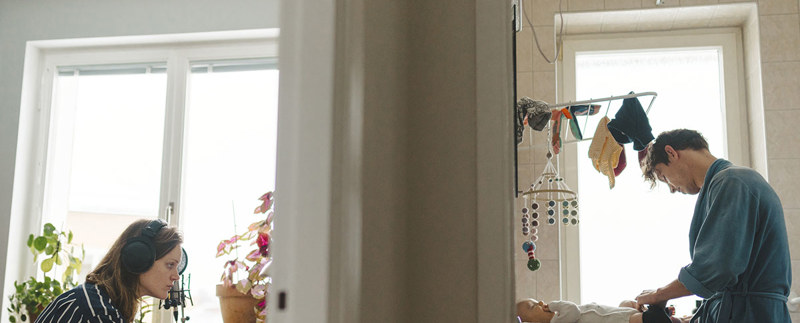 The fourth gender equality policy sub-goal is that there should be an even distribution of unpaid housework and provision of care. Women and men must have the same responsibility for housework and have the opportunity to provide and receive care on equal terms.


How equal is the unpaid housework and provision of care?
There is a lack of current knowledge about situation regarding the distribution of unpaid housework and provision of care. The latest time use survey conducted by Statistics Sweden ten years ago showed that time was unevenly distributed and that women did more everyday chores while men spent their time on individual chores, such as taking care of the car. A new time use survey was presented in April 2022.
When it comes to caring for children, there is more knowledge. As a measure to even out differences between women and men, the focus has primarily been on parental benefits. Today, 90 parental days are locked for each parent and there are proposals for a family week. The family week's six extra parent days per year are shared equally between the parents, but will probably mainly contribute to increasing the opportunities for single mothers to take time off during the children's school holidays, development talks and study days.
Men still take less parental leave than women and use parental benefits to a lesser extent. There are also differences between different groups. The men who take out the most parental benefits are men who are highly educated with a good income, are Swedish-born over the age of 25 and who work in the public sector. Men's use of benefits have increased over time, while women's have decreased. Single women with a low level of education and low income may often need to take all parental leave during the child's first year.
Almost a fifth of the population regularly provides care to a relative. The work of providing unpaid care to elderly or sick relatives or a child with a disability is relatively evenly distributed between the sexes, but differs in terms of the type of care. It is more common for women to take overall responsibility for social interaction and for supervision, while men make more practical, discrete efforts. The women who provide a lot of care also feel worse as it affects their social life, finances and health.
The paid and the unpaid care work affect each other. If care for the elderly is cut, there is a risk that unpaid care work will increase. The degree of housework is also affected for those who are only offered part-time work. Measures that have been put in place do not always achieve their full purpose. The RUT deduction (for cleaning, maintenance and laundry services) is well suited for men's care efforts in particular, and thus the distribution between the sexes may not be evened out as intended. The changed care allowance for children with disabilities has so far had a small positive effect on the distribution of care for children with disabilities. Relatives' allowance that can be taken out for the purpose of care for a seriously ill relative is still used mainly by women.


What is needed for a more even distribution of unpaid housework and provision of care?
The sub-goal of an even distribution of unpaid housework and provision of care has long been a neglected area when it comes to political measures, and development has been virtually stagnant. A national strategy for relatives as carers or who support close relatives is being developed by the National Board of Health and Welfare.
The Swedish Gender Equality Agency highlights some areas for development:
Continued work for an even distribution of care for younger children
Targeted measures are needed to promote an even distribution.
Systematic data collection is needed to follow developments, including regular time use surveys.
Publication date: 7 January 2022
Last updated: 13 December 2022